Route to the Canigó from Cotalets, one of the most emblematic mountains and mythical of the Pyrenees Catalàn.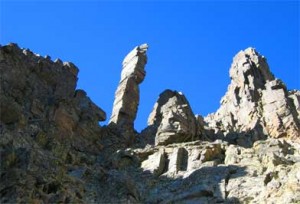 The Canigó, emblematic and mythical mountain, beginning of the Pyrenean chain by the Oriental slope, is one of these peaks that a Pirineísta that precie, can not obviar. It does not matter his modest altitude, does indispensable his ascensión if it wants to have a wide knowledge of the mountainous chain.
The Canigó (in French Canigou) is a macizo mountainous of the Pyrenees, situated in the Rosellón (south of France) , between the regions of Conflent, Rosellón, Vallespir and High Ampurdán
The peak, called «pike of the Canigó», has 2.784 metres. In spite of his moderate height, was considered the highest mountain of the Pyrenees because of the brusque desnivel that separates it of the plain of the Rosellón, doing it more impressive that other mountains more encajonadas and situated between valleys higher.
The white giant that divisa from the Mediterranean sea is an emblematic mountain for the Catalan culture; of here it splits the fire that lights up the bonfires of San Juan of the Països Catalans.
October 2008

Place

Days

Length

Desnivel

Desnivel

Difficulty

Type route
France
1
8 Km.
630 m.
630 m.
Easy
October 2008

Place

Days

Length
France
1
8 Km.
| Desnivel | Desnivel | Difficulty | Type route |
| --- | --- | --- | --- |
| 630 m. | 630 m. | Easy | |